Build a haunted house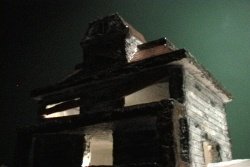 On this webpage you'll learn how to build a haunted house for a pet lizard, tarantula or just for yourself. If you are going to use these haunted house ideas for a pet, make sure you know your pet's climbing abilities.
This project should be reserved for expert climbing pets only. Lizards such as geckos or green anoles are much better climbers than bearded dragons or especially a uromastyx. The tarantula family would be ideal seeing as how they are expert climbers, as well as being very appropriate for the theme of a haunted house design. This would be a good gecko habitat seeing as how it incorporates a basking spot, climbing opportunities, and a "hide".
The gargoyle gecko might be a rather appropriate pet for this particular design, although a fake rock castle might be even more ideal. Whatever critter you choose just make sure you take into consideration safety before style and design.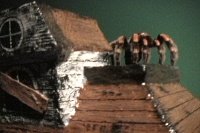 The techniques to make this homemade haunted house are essentially the same as all of the other projects on this website. They only difference is the use of balsa wood for the "boarded up windows". Check out the video below on how to build a haunted house!


---
The first thing you want to do is figure out how large you want your homemade haunted house to be. You want to be able to fit the house into a certain sized cage. The haunted house design on this webpage was built in two pieces. The base piece measures 7 1/2 inches tall by 11 inches deep (9 inches deep without the porch) by 12 1/2 inches wide. The porch is 2 inches deep.

The roof measures 13 3/4" wide by 6 1/2 inches tall by 10 inches deep. When put together, the entire haunted house project is 14 inches tall. This potential gecko habitat was made so that it would not be too tall so as to create a safety hazard where a pet might fall.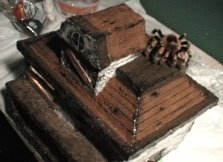 As with all of the other projects on this site, I used polystyrene sheets purchased at a hardware store to build up the structure. The pieces are glued together with a product called Loctite power grab, although any type of adhesive will work. The goal with these haunted house plans is to keep the structure together enough so that you can put a few layers of grout on the house, which is actually what holds the sculpture together.
For great haunted house ideas do a search on the Internet by typing in "haunted house" into a search engine and going to the images results. In your attempts to try and build a haunted house, you'll need haunted house pictures and otherwise related images depicting old houses, condemned houses and other similar ideas.
The haunted house decorating ideas I went with were rather traditional. Including a house with a very weathered look with a decrepit -peeling paint job. I also wanted to incorporate an "old Timey" classic Victorian -turn of the 20th century look by creating a center tower. Another classic haunted house feature is a front porch, whether it be small or large and elaborate.
But, I think one of the most synonymous haunted house ideas is that of "boarded up windows". This really gets across the condemned -no one in their right mind would want to live here- look. I ended up using balsa wood for the boards, but an easier route would have been to use popsicle sticks. Be sure and watch the video above on how to build a haunted house.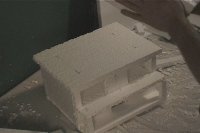 After gluing together the base and roof section, you'll want to put at least three layers of non-sanded grout on the structure. This potential gecko habitat needs to be strong, for the pet lizard or tarantula, and especially to guard against you -the most likely creature to possibly damage your homemade haunted house! These techniques for your haunted house design can end up making the sculpture look stronger than it actually is, so you'll want to be very careful when moving the house so as not to bump into anything.
Another thing you want to do is paint it. I painted most of mine white, which made it easier to do a fake weathered -dirty look. If I had painted it a dark blue it would've been much more difficult for any type of damage or dirt to show up.
Any type of light color will do, combine with any type of dark color. Generally for the darker color you want to use black or brown as this will mimic the colors generally produced because of wind combined with dirt and age.
An optional stage is to board up the windows to make it look condemned. As I stated earlier -popsicle sticks is the easiest and safest method of doing this.
So each time you have a popsicle or other ice cream treat -store it somewhere.
Popsicle sticks usually come in handy for quite a few arts and crafts projects -a haunted house being one of them. You could actually build an entire haunted mansion just using popsicle sticks, with the addition of gravestones out front by just using these sticks. So get creative and resourceful when doing any arts and crafts project.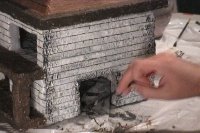 Balsa wood is what I used, but I had a splintering effect, so I ended up having to coat all of the edges of the tiny pieces of balsa wood with non-toxic glue to close up and smooth out any sharp parts like a wood splinter that might hurt a pet lizard or a tarantula.
You must go for safety first if you're building this model haunted house for a living creature. Even if you're just building this for yourself you might still think about making it safer so as to avoid a splinter in your own finger!
The last stage is to seal it with a non-toxic sealant. I mention a couple I've used in the FAQ page, along with all of the other materials to create these fake rock structures. You want to put at least four layers of sealant on your haunted house design. As the last layer is drying, sprinkle some fine grain colored sand on the sculpture. This will give a creature traction, and eliminate some of that "shiny" look created by the sealer.
I hope these haunted house ideas have helped you in creating your gecko habitat or tarantula habitat. Be sure and check out the video above on how to build a haunted house. You might also enjoy the how to build a Castle page -which could be turned into a haunted Castle if you put your mind to it!
Have a story about building a model haunted house?
Do you have a great story about this? Share it!
What Other Visitors Have Said!
Click below to see contributions from other visitors to this page...